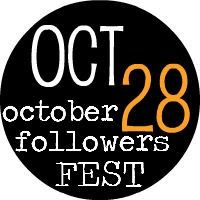 Alright, so I'm going on a pretty common theme. Big scarves lately. It's just so cold on this island, and in my building too! And while I usually try to look pretty normal on the blog. I mean, no one wants to see my weird faces right? Well, you're in for a treat today, Halloween comes early this year! :P
Also, I'm linking up to a really great party today! It's the October Followers Fest, where there's so many new blogs to look at! I love link parties like this, since I love finding new blogs and new friends! It's a really great idea for small blogs, like mine, to gain some more exposure! Plus I love seeing how people dress for Fall and really get into the cold-weather feel. To any new readers, please comment and leave me your link! I'd love to check out all the new blogs I can. I'm planning on making my way through that link list too. Excitedddd. :)
seductive? sneaky is more like it.
my true self. scary like a Halloween mask?
Salmon-y shirt - Zara / yellow tank - Bluenotes / pants - AE (they're actually navy) / scarf - drama room prop / ridiculous grin - c/o my mother.
I decided to use this post, because it shows a lot of what fall is for me, and Halloween too. I love love love this shirt. Once I got in Zara on my T.O. trip, I realized I was completely lacking in this color. It's so pretty and fall-like without being too season-centric. It's like salmon/rust in person, like the new Essie polish I bought (Very Structured, which was darker than I thought it would be), and despite what your monitor and my camera have conspired to tell you that's not right! It's not orange, though that would be very Halloween appropriate wouldn't it? I love the new 50mm lens that these were taken with! Boyfriend bought it for me for our 4 year anniversary. Such a long time!
I was hoping to do some baking once I saw this link-party, but I can't find a can of pumpkin pie filling yet. And my pan is in great need of washing. I'll be posting it next week hopefully! Lots of baking to do this weekend...love me some fall weather!
Til next time!